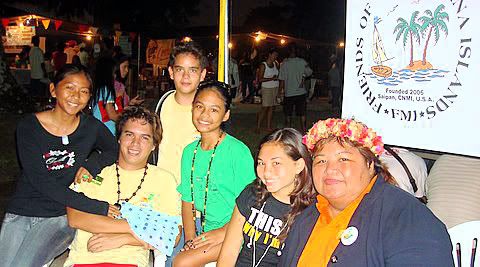 This night was fun! We (
Litcelle
,
Sami
, & Craig) hung out with our buddies from Beautify
CNMI
. Chairman Angelo
Villagomez
and Rep.
Cinta
Kaipat
.
Sami
and I got treated this night. Angelo, thanks for the pearl shakes, food, and water! :)
Day 2 - Friday Night
This was another night where
Sami
and I hung out at the Beautify
CNMI
/MINA booth. Sorry for us, Angelo wasn't there to treat us. But hey,
Cinta
.. Thanks for the pearl shakes! :)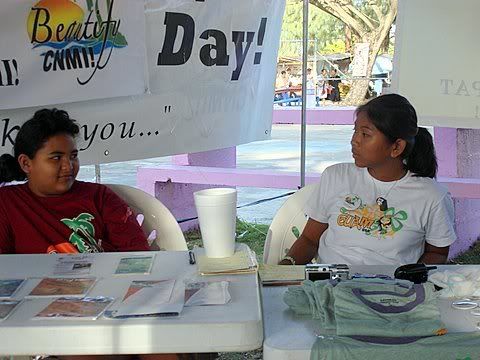 Day 3 - Saturday Afternoon
On this day, I went to the Flame Tree Festival at 3pm. WHOA! I stop whatever I was doing just to go there, why? '
Coz
my friends (mostly Jessica) kept bugging me to come. Why
again
? '
Coz
she wanted to borrow one of my shorts. Oh yeah, I want those shorts back! They are so cute! :).. Anyway, on this day.. I worked at the Beautify
CNMI
/MINA booth. Shirts, buttons, stickers, and plants were on sell. There were also lots of
brochurs
laid out on the tables for people to look at and see how the
CNMI
is, such as: our wildlife, marine ecosystem, and MINA!
Oh yeah, and I forgot to mention! See that girl? Yeah, she's my new friend! I meet a lot of people that are involved with Beautify
CNMI
. But wait, wait.. :| I forgot her name! ugh, darn it! I must have
STM
(short term memory)!
Uncle Angelo
,
wanna
help me out? What's her name?
Lol
.
Day 4

Sadly, I did not go. Why? '
Coz
I was
ashamed
and I didn't know who to go with!
LOL
! ;P
Oh but let me tell you something really funny! Oops
nvm
, I already mentioned it in my other post but let me say it in quote --"TALK ABOUT A 13 YEAR OLD GIRL LIKE MYSELF COMING HOME 1 O'CLOCK IN THE MORNING!".. Okay, it may have freaked out my parents but I wished I stayed out longer! ;P